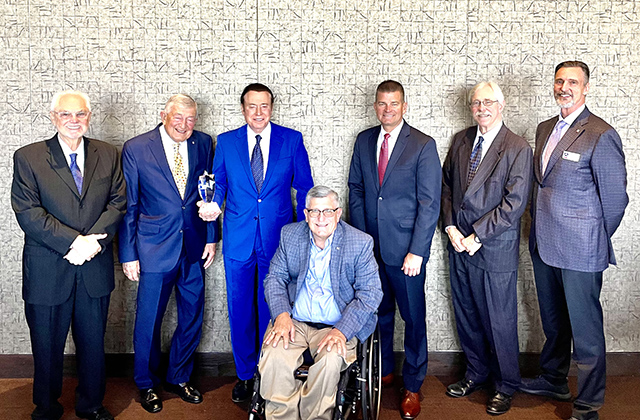 Mac Haik Recognized as 2020 Howard O. Payne Award Recipient
Date: 06/30/2022
Texas Independent Bancshares, the parent company of Texas First Bank and Texas First Insurance, proudly announces that Mac Haik, Chairman and CEO of Mac Haik Enterprises, is the 2020 recipient of the Howard O. Payne Free Enterprise Award. While the presentation of this award was delayed due to COVID, Mr. Haik is the 48th recipient to be recognized. He is recognized not only for his success with Mac Haik Enterprises, a Houston-based investment company, but also what he gives back to the community, supporting as many as twenty different charity organizations annually.
About the Howard O. Payne Free Enterprise Award
The Howard O. Payne Award was established in 1973 to honor Mr. Payne, a lifelong businessman and the founder of First State Bank of Hitchcock (Texas), which went on to become what is now Texas First Bank. Payne was born on a 200-acre farm in Maryland in 1883. He spent his childhood on this farm, attending a one-room schoolhouse nearby and hauling wood to town to exchange for items needed on the farm. At 25, Payne went to Philadelphia to visit friends and observed that business was thriving in the city. He particularly liked the produce business and went to work for C. H. Peacock Produce Receivers. In 1935, Payne took over the business under the name of Peacock-Payne Company and operated it until 1957 when he came to Hitchcock, TX.
You might think that at the age of 74, when Payne came to Texas to live in La Marque with his daughter and son-in-law, Mr. and Mrs. Gaddis G. Wittjen, he would retire from the business world. Not Mr. Payne. Payne became one of the founders of First State Bank of Hitchcock and worked at it until his death in 1977 at the age of 94. Payne was involved in a number of businesses throughout his life, all of which he termed "exciting," and all of which made a significant impact on their local communities. A truly lifelong businessman, and as far as Texas Independent Bancshares is concerned, the unofficial recordholder of the "world's oldest active banker" title, Mr. Howard Payne exhibited true leadership in the development of his local economies, and we are honored to name the award after him.
*Story adapted from BanClub Digest article, Spring 1977
About Mac Haik
Mac Haik graduated from the University of Mississippi (Ole Miss) and was the first drafted choice of the then NFL Houston Oilers in 1968. After retiring from professional football, Haik established Mac Haik Enterprises (MHE). MHE is a Houston-based investment company that includes a full-service commercial real estate affiliate. Since its inception, the overall organization has grown from a start-up entity of two people to a business that employs over 3,000 associates and generates more than $2.8 Billion per year. The eleven affiliated companies of Mac Haik Enterprises have engaged in the development, ownership, and management of commercial real estate and health care facilities, asset acquisition and disposition, facilities management, property management, leasing, project management, construction, janitorial services, media advertising, as well as restaurants and hotel ownership. The overall organization also provides foreign and domestic auto sales and service, insurance, and financial services. Mac Haik Automotive Group (MHAG) is the largest independent Automotive Group in the State of Texas and the 15th largest Independent Automotive Group in the United States.
Mr. Haik and all of his companies have adopted a "SWAT Team" philosophy that is committed to providing the highest quality and most personalized services available. A "hands-on" philosophy (as opposed to the "volume philosophy" of most companies) has generated significant, and sometimes remarkable, success stories that have resulted in long-lasting relationships that have fueled the company's growth. Mr. Haik heavily supports as many as twenty different charity organizations annually.
Congratulations, Mr. Haik, and thank you for all you do for the community.
Back to Blog